DISCOVER NATURE WITH NEW MOUNTAIN BIKES
| | | |
| --- | --- | --- |
| VIP E-BIKES | MOUNTAIN BIKES | VIP E-MOUNTAIN BIKES |
PRICELIST
DUE TO THE CURRENT COVID-19 SITUATION WE RECOMMEND ADVANCED RESERVATION THROUGH OUR WEBSITE
MOUNTAIN AND TREKKING BIKE
TIME
PRICE
1/2 day
15,00 €
1 day
19,00 €
MOUNTAIN AND TREKKING BIKE
TIME
PRICE
1/2 day
17,00 €
1 day
22,00 €
TANDEM BIKE
TIME
PRICE
1/2 day
29,00 €
1 day
39,00 €
CHILD'S ELECTRIC MOUNTAIN (hardtail) BIKE WOOM
TIME
PRICE
1/2 day
29,00 €
1 day
39,00 €
ELECTRIC MOUNTAIN (hardtail) BIKE HaiBike
TIME
PRICE
1/2 day
33,00 €
1 day
43,00 €
FULL SUSPENSION ELECTRIC MOUNTAIN BIKE HaiBike
TIME
PRICE
1/2 day
39,00 €
1 day
49,00 €
When renting a bike, a helmet for children up to the age of 14 is free, a children's chair for free. • Children's trailer 15 eur/day. • There are no additional discounts or commissions on this price.
ELECTRIC MOUNTAIN BIKE HaiBike
TIME
PRICE
1/2 day
29,00 €
1 day
39,00 €

LOCATIONS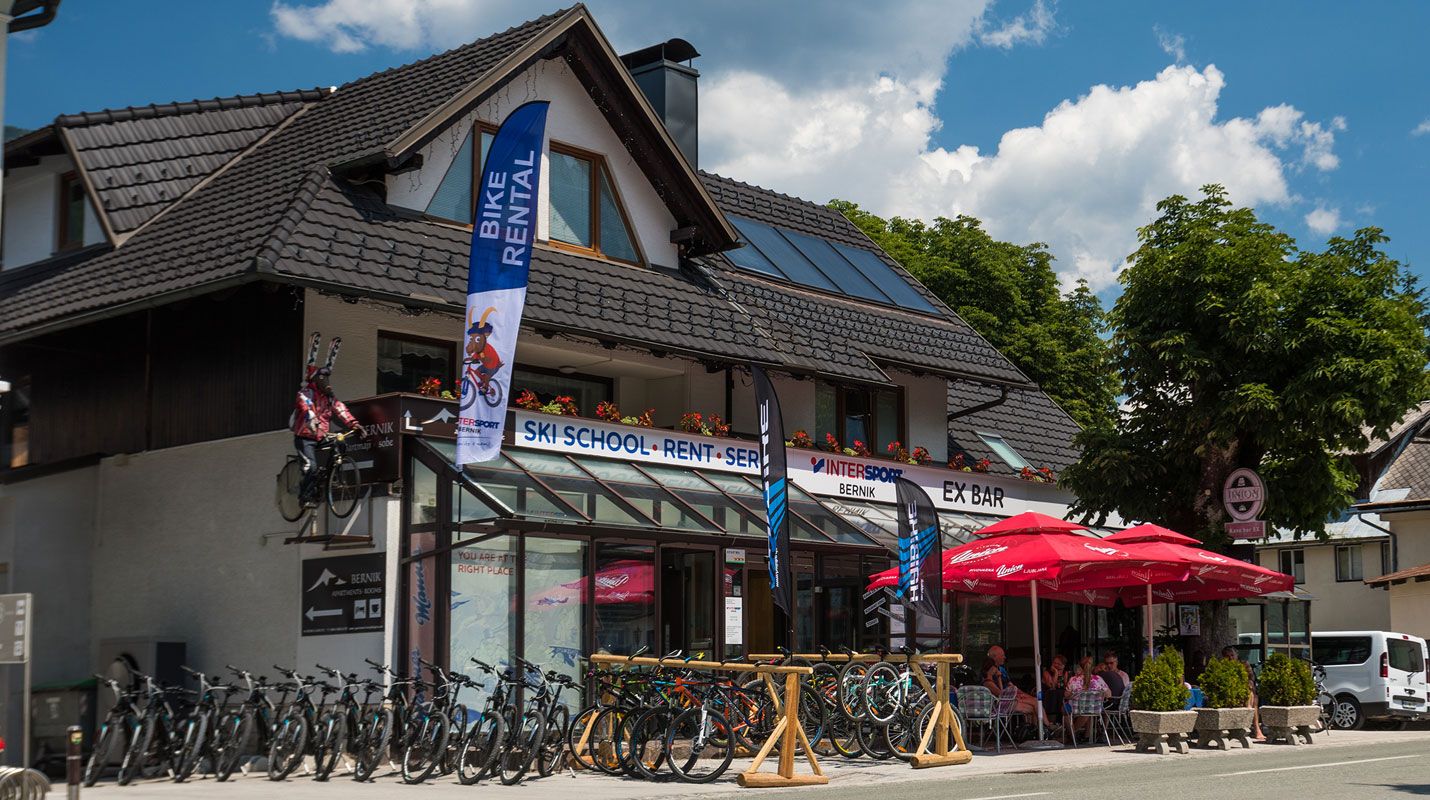 Rental office and ski school Intersport Bernik + Apartments Bernik
Borovška cesta 88a
Kliknite za prikaz zemljevida.
Guided mountain biking trips